Ubuntu
(pronounced /uːˈbuːntuː/), is a computer
operating system
based on the
Debian
Linux
distribution. It is named after the Southern African ethical ideology Ubuntu ("humanity towards others") and is distributed as
free
and
open source
software. Ubuntu provides an up-to-date, stable operating system for the average user, with a strong focus on usability and ease of installation. Ubuntu has been selected by readers of desktoplinux.com as the most popular Linux distribution for the desktop, claiming approximately 30% of Linux desktop installations in both 2006 and 2007. Web statistics from late 2009 suggest that Ubuntu's share is between 40 and 50%.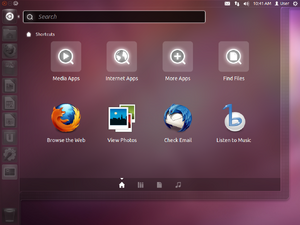 External links
Screenshots
Edit
Past Screenshots
Edit
Version
Processor
Memory
Hard drive capacity
Video card
Required
Recommended
Required
Recommended
Required
Recommended
Required
Recommended
9.10 desktop/laptop
300 MHz (x86)
z700 MHz (x86)256 MB
256 MB
384 MB
574 MB
700 MB
VGA @ 640×480
VGA @ 1024×768
Community content is available under
CC-BY-SA
unless otherwise noted.