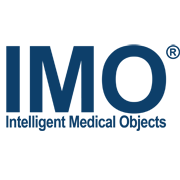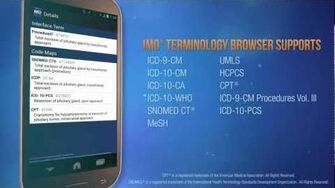 Write the first paragraph of your page here.
Intelligent Medical Objects (IMO)
Edit
Intelligent Medical Objects (IMO) develops, manages, and licenses medical terminology and healthcare IT software applications that allow clinicians to capture their clinical intent at the point-of-care. IMO's medical comprehensive terminology of physician-friendly terms is mapped to the preferred billing and reference codes enabling clinicians to use the terms they are familiar with while ensuring improved coding accuracy.
IMO produces the most widely-used and physician-preferred medical terminology service for healthcare solutions, allowing over 2,500 hospitals and 350,000 clinicians to focus on patient care. IMO bridges the information gap between clinicians, coders, and patients in the US and internationally.
IMO Terminology Browser is available as a medical mobile application, for both iOS and Android operating systems.
Intelligent Medical Objects leverages its vast experiences in medical terminology for much more than coding purposes. With more than 15 years of medical terminology experience, IMO empowers healthcare providers to capture true clinical intent at the point-of-care. While using their own words clinicians can simultaneously utilize IMO clinical terms, which map to the most appropriate billing and reference codes for reimbursement and ongoing Meaningful Use requirements for EHR Systems.
In addition to maintaining a wide range of curated healthcare terminologies, IMO also created the online medical Terminology Portal, a medical search engine technology, which is the most widely-used and preferred by medical care providers to help bring greater intelligence and medical vocabulary where it matters most: at the point-of-care.
Proucts include:
Problem IT
Procedure IT
Medical Necessity
Medication IT
iHealth Search
Clinical Intelligence
IMO Anywhere
References
Edit
Community content is available under
CC-BY-SA
unless otherwise noted.