Fedora
(sometimes unoffically called
Fedora Linux
) is an
RPM
-based
Linux
distribution, developed by the community-supported Fedora Project and sponsored by Red Hat. The name derives from Red Hat's characteristic fedora used in its "Shadowman" logo. However, the Fedora community project had existed as a volunteer group providing extra software for the
Red Hat Linux
distribution before Red Hat got involved as a direct sponsor.
Fedora aims to be a complete, general-purpose operating system built from open source software. Fedora is designed to be easily installed and configured with a simple graphical installer and the 'system-config' suite of configuration tools. The installation system includes an option to use GNU GRUB, a boot loader, facilitating the use of Fedora in conjunction with another operating system. Packages and their dependencies can be easily downloaded and installed with the yum utility. New releases of Fedora come out every six to eight months. Fedora can run GNOME or KDE, and spans 5 CDs or a single DVD. Network installations are available from a single small 6 MB boot.iso image. The installer supports installation via HTTP, FTP, and NFS, and remote installation progress can be monitored via VNC.
Fedora was derived from the original Red Hat Linux distribution. The project envisages that conventional Linux home users will use Fedora, and intends that it replace the consumer distributions of Red Hat Linux. Support for Fedora comes from the greater community (although Red Hat staff work on it, Red Hat does not provide official support for Fedora).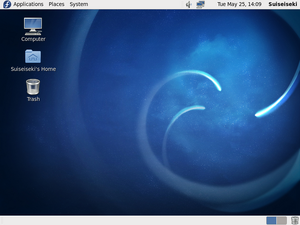 Fedora Project
GNU GPL, and others

Afrikaans

, Akan,

Albanian

, Amharic,

Arabic

, Armenian, Assamese, Asturian, Azerbaijani, Balochi,

Basque

,

Belarusian

, Bengali, Bengali (Indian), Bosnian,

Bulgarian

, Burmese, Catalan (Valencian), Chinese (China), Chinese (Hong Kong), Chinese (Taiwan), Croatian,

Czech

,

Danish

, Dutch (Flemish), Dzongkha, English, English (South Africa), English (United Kingdom), English (United States), Esperanto,

Estonian

,

Finnish

,

French

, Friulian,

Galician

,

Georgian

,

German

,

Greek

, Gujarati, Haitian (Creole),

Hebrew

, Hindi,

Hungarian

,

Icelandic

, Iloko,

Indonesian

,

Irish

,

Italian

,

Japanese

, Kannada, Kashmiri, Kirgyz,

Korean

, Kurdish, Lao, Latin, Latvian,

Lithuanian

, Macedonian, Maithili, Malay, Malayalam, Maltese, Marathi, Mongolian, Nepali, Northern Sotho, Norwegian,

Norwegian (Bokmål)

,

Norwegian (Nynorsk)

, Oriya, Panjabi, Persian,

Polish

, Portuguese,

Portuguese (Brazilian)

,

Romanian

,

Russian

,

Serbian

, Serbian (Latin),

Sinhala

,

Slovak

, Slovenian, Southern Sotho, Spanish (Castilian), Swahili,

Swedish

, Swiss German, Tagalog, Tajik, Tamil, Telugu, Thai, Tibetan,

Turkish

, Twi,

Ukrainian

, Urdu,

Vietnamese

, Welsh, Western Frisian, Wolof, Xhosa, Zulu
External links
Template:wikipedia